03/21: Call for consultancy for the development of an advice document on the Ecological Objective 6 « Sea floor integrity »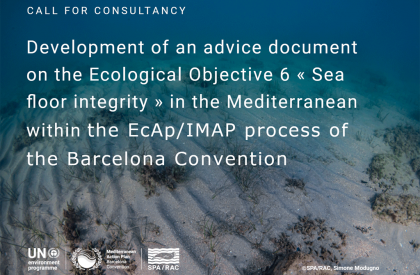 UNEP/MAP-SPA/RAC is launching a call for consultancy aiming at the development of an advice document in regard to further determining the Good Environmental Status, indicators and environmental targets for Ecosystem Approach EO 6 "Sea floor integrity"
SPA/RAC is launching a call for consultancy n°16/2021_SPA/RAC MEDREGION for the provision of consultancy services to develop an advice document in regard to further determining the Good Environmental Status, indicators and environmental targets for Ecosystem Approach Ecological Objective 6 (Sea floor integrity).
Proposals must be received by emails at car-asp@spa-rac.org, no later than Thursday 15 April 2021 at 23:59 UTC+1 (Tunis Time).
The terms of reference (available only in English) including the conditions of participation, evaluation procedure and other useful information concerning this call for consultancy are detailed at the following link.