11-20: Kick-off meeting of the EU funded IMAP-MPA project in Libya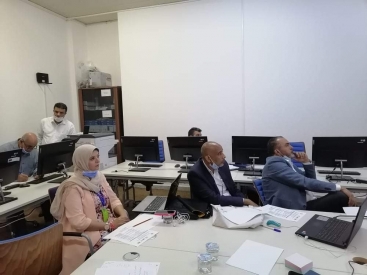 The Integrated Monitoring and Assessment Programme (IMAP) of the marine environment is gaining substantial progress in Libya with the new European Union funded IMAP-MPA project.
The project national kick-off meeting was organized online by SPA/RAC on October 28th, 2020, in close collaboration of the Environmental General Authority (EGA). The meeting came out with important and necessary decisions for the long-term implementation of the IMAP in Libya.
Indeed, it was decided to establish a National IMAP Steering Committee under the aegis of the Environmental General Authority, covering the three folloowing clusters: (i) Pollution and marine litter, (ii) Biodiversity and fisheries, and (iii) Coast and hydrography. The mission of this National Steering Committee is to coordinate and follow-up all the IMAP activities in Libya.
This National Committee will involve representatives from (i) the Ministry of Agriculture, Livestock and Marine Wealth, (ii) academic and research institutions, (iii) non-governmental organizations (NGOs), (iv) the Urban Planning Authority, and (v) the Libyan Petroleum Institute.
Another important outcome of the meeting is the selection of two sites to be monitored during the period of the project's execution, namely the Farwa Lagoon (a Marine Protected Area) and the coastal area of Tripoli (a site under human pressures). The comparison of the monitoring results of these two sites will be used to better understand the impacts of human activities on the environment and to adapt the management measures.
It should be recalled that Libya adopted in 2018 its national monitoring programme for marine biodiversity and non-indigenous species within the framework of the Ecosystem Approach Application Roadmap (Decision IG.20/4).
Following this adoption, several training courses for Libyan specialists have been organized by SPA/RAC and monitoring activities have been carried out in five regions along the Libyan coast, which allowed the submission of quality assured data on marine biodiversity to UNEP/MAP platforms.
The IMAP-MPA project therefore makes it possible to continue this process initiated within the Barcelona Convention and to make it sustainable, with the ultimate objective of improving natural resource management and contributing to sustainable development in the Mediterranean region.
* All the conclusions and recommendations are available at the following link.