10/20: Call for consultancy within the post-2020 SAPBIO elaboration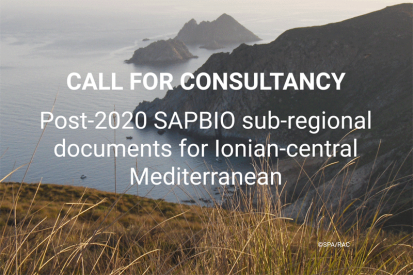 SPA/RAC launches a call for consultancy for independent experts to elaborate Post-2020 SAPBIO sub-regional documents for Ionian-central Mediterranean
In December 2019, the 21st Meeting of the Contracting Parties to the Barcelona Convention and its protocols (COP 21) adopted a decision requesting the Mediterranean Action Plan –Barcelona Convention Secretariat to prepare the Post-2020 Strategic Action Programme for the Conservation of Biodiversity and Sustainable Management of Natural Resources in the Mediterranean Region. The decision specifically recommended that, while focusing on the Mediterranean, the post-2020 strategic action programme should be aligned with the Sustainable Development Goals (SDGs) and the CBD post-2020 Biodiversity Framework.
Having the lead within the MAP system on the elaboration of the post-2020 SAPBIO, SPA/RAC launched a first call of consultancy for elaboration of the new SAPBIO document. A new call is now launched by SPA/RAC for the elaboration of sub-regional documents for Ionian - central Mediterranean.
Offers by independent experts must be sent by email at car-asp@spa-rac.org with copy to daniel.cebrian@spa-rac.org and saba.guellouz@spa-rac.org no later than Tuesday 27th October 2020 at 23:59 (Tunis time).
The Terms of Reference, and all other information relating to this call for consultancy and the conditions of participation are detailed at the following link.