09/20: Towards the second phase of the MedBycatch project in Tunisia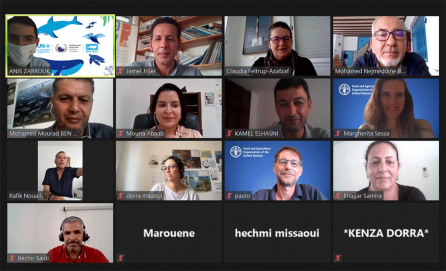 The SPA/RAC co-organised with AAO/Birdlife in Tunisia and WWF North Africa a meeting to present the results of phase 1 of the MedBycatch project on bycatch of vulnerable marine species in the Mediterranean and the activities planned in phase 2.
SPA/RAC held a meeting on 23 September 2020 to present and discuss the results of phase 1 of the MedBycatch project and the activities of phase 2 with the national partners of the project in Tunisia, namely the National Institute of Marine Sciences and Technologies (INSTM), the Directorate General of Fisheries and Aquaculture (DGPA), the Ministry of the Environment, the Association Les Amis des Oiseaux (AAO/BirdLife in Tunisia) and WWF North Africa, as well as the General Fisheries Commission for the Mediterranean (GFCM), the MedBycatch National Focal Points and the Coordinators and Supervisors of the Bycatch Observers.
As a reminder, the MedBycatch project " Understanding Mediterranean multi-taxa 'bycatch' of vulnerable species and testing mitigation- a collaborative approach" funded by the MAVA Foundation, was implemented during its first phase (October 2017 - June 2020) in three Mediterranean countries, namely Morocco, Tunisia and Turkey, in collaboration with several regional partners (BirdLife Europe and Central Asia (coordinator), GFCM, ACCOBAMS, SPA/RAC, MEDASSET and IUCN-Med).
In this new phase, there will be in addition two more beneficiary countries, Croatia and Italy, and a new regional partner, WWF MedPo. The objectives will be the following:
To sustain the collection of bycatch data (observation, database and analysis)
To propose adapted mitigation measures
To propose regional and national strategies for the mitigation of bycatch
Awareness-raising activities for regional bycatch mitigation
A report on the results of the bycatch observations carried out in Tunisia during phase 1 of the project is currently being finalised. It will present in particular
The composition of catches and discards for each fishing technique studied (demersal trawl, longline and gillnets)
The bycatch rate by taxa, by species, by fishing gear, by season and by geographical area.
Release rates of incidentally caught species
Incidentally caught non-indigenous species
Vulnerable macrobenthos (coral/sponges) incidentally caught
The composition and percentage of marine litter caught by fishery and fishing gear
Information on the presence of vulnerable species around fishing boats during fishing
Data on observed strandings.