05/20: New call for tenders for the development of the Post-2020 roadmap for Mediterranean MPAs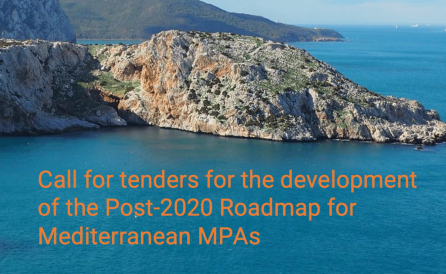 This call is launched in the framework of the 2020 Forum for MPAs in the Mediterranean. Offers must be sent by email at contact@medmpaforum.org no later than Tuesday 2 June 2020 at 23:59 (UTC +2)
SPA/RAC, together with MedPAN and WWF are launching a call to coordinate the development of a new post-2020 roadmap for Mediterranean Marine Protected Areas (MPAs), in the framework of the forthcoming 2020 Forum of Marine Protected Areas in the Mediterranean (date and venue of the event to be confirmed soon).
The present call for tenders follows a first call launched in March that was declared unsuccessful.
The terms of reference of the new call have been improved to provide more clarity on the tasks and expert profiles requested, and the maximum available budget. You will find the Terms of Reference at the following link.
Based on a summary evaluation of the 2020 Mediterranean MPA Roadmap to be performed as part of this consultancy, the development of the post-2020 roadmap should be carried out through a participatory process that will aim at producing operational recommendations for Mediterranean MPAs to effectively achieve targets in line with the new Post-2020 Global Biodiversity Framework.
Offers must be sent by email at contact@medmpaforum.org no later than Tuesday 2 June 2020 at 23:59 (UTC +2).
Outcomes of the previous MPA Forum editions, co-organised by SPA/RAC and MedPAN in 2012 and 2016, are available at the Forum website: http://www.medmpaforum.org.