07/19: Towards better protection of Habibas Islands and Paloma Island in Algeria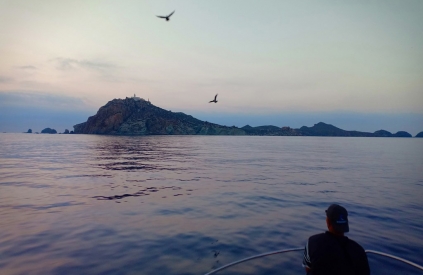 SPA/RAC launches a study at the Habibas Islands Marine Nature Reserve and the Paloma Island Habitat and Species Management Reserve to assess the impact of fishing on marine habitats and ensure the long-term monitoring of marine biodiversity
The Habibas Islands and Paloma Island are two exceptional marine protected areas of the Oran Wilaya in Algeria which are home to endemic and rare marine and terrestrial species. The Habibas Islands have been classified as SPAMI since 2005 in the framework of the Barcelona Convention.
Some human activities, especially fishing, need to be studied in order to assess their impact and adapt if necessary, the management measures already in place to preserve the natural assets of the islands.
In this context, SPA/RAC is executing the regional project MedKeyHabitats II project "Mapping of marine key marine habitats and assessing their vulnerability to fishing activities in the Mediterranean" financed by the MAVA Foundation. The project activities in Algeria are carried out in partnership with the Ministry of the Environment and Renewable Energies (MEER) and implemented by the engineering office ABYSS ENVIRONMENTAL SERVICES. The collaborators of this project are the National Commissariat of the Littoral (CNL), the marine ecological association Barbarous of Oran and the University of Alicante.
From June 20 to July 3, 2019, a field mission was conducted on the Habibas Islands and Paloma Island to establish a mapping inventory of key marine habitats and to assess their vulnerability to fishing activities.
The result of this work will serve as a basis for the elaboration of management recommendations for these two marine protected areas including a possibly new zoning proposal. The study will also serve as a basis for establishing marine key habitats monitoring activities in both sites.
Photos of the field mission are available on the following link: https://flic.kr/s/aHsmFeswKb