07/19: The marine biodiversity of El Hoceima Park on focus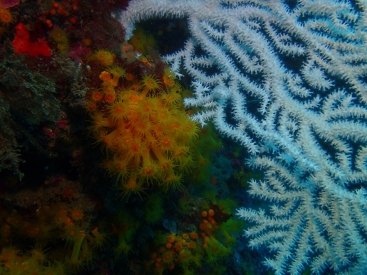 SPA/RAC field mission to El Hoceima National Park led to the characterization of marine key habitats and to the set-up of biodiversity monitoring systems
Following a first field mission in the marine protected area of ​​the El Hoceima National Park in Morocco to map the seabed in April 2019, a second mission was organized from 27 June to 2 July 2019 to collect additional data on the marine environment.
This field work is part of the implementation of the MedKeyHabitats II project "Mapping of marine key marine habitats and assessing their vulnerability to fishing activities in the Mediterranean" financed by the MAVA Foundation.
This project is implemented in 6 Mediterranean countries, including Morocco, where activities are carried out in partnership with the Haut-Commissariat aux Eaux et Forêts et à la Lutte Contre la Désertification (HCEFLCD) and in collaboration with various organizations, namely the engineering office Mediterraneo Servicos Marinas, the NGO Action Bleue Maroc and the University of Seville.
This field mission led to the characterization of the key marine habitats identified, the set-up of 3 monitoring sites equipped with thermal sensors, the characterization of the Cymodocea seagrass meadows, the fish counting, the census of the threatened species Patella ferruginea listed in Annex II of the SPA/BD Protocol and to study the impacts of fisheries on marine habitats.
The compilation of the ecological data collected with those from the fishers' surveys, will allow to evaluate the impacts of fishing activities on marine habitats.
Finally, representatives of local associations, managers of the park and local stakeholders have benefited from an on-the-job training on biodiversity monitoring techniques, with the aim of ensuring long-term monitoring of species and marine habitats in accordance with the provisions of the IMAP program of the Barcelona Convention.
Photos of the field mission are available on the following link: https://flic.kr/s/aHsmFehTd1