02/19: CORMON meeting: Mediterranean experts discuss the implementation of the Barcelona convention Ecosystem Approach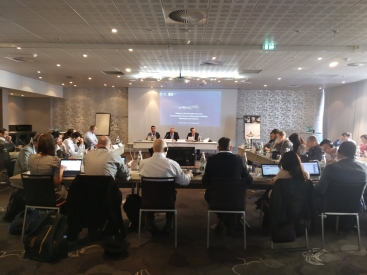 SPA/RAC is organising the Meeting of the Ecosystem Approach Correspondence Group on Monitoring (CORMON) related to Biodiversity and Fisheries on 12 and 13 February 2019 in Marseille, France.
For one day and a half, the Meeting is bringing together experts from the Mediterranean countries, the European Union and the Mediterranean Action Plan (MAP)'s relevant partners to review the state of play of the national implementation of the Integrated Monitoring and Assessment Programme (IMAP), and to discuss the harmonization and standardization of monitoring and assessment methods, as well as the improvement of data availability for the marine environment status assessment.
During the initial phase of IMAP implementation (2016-2019), the 2017 Mediterranean Quality Status report (2017 MED QSR), the first report assessing the status of the marine and coastal environment of the Mediterranean Sea using the IMAP Common Indicators and data reported from the Countries and other reliable sources, was elaborated thanks to the collaboration and inputs from the Contracting Parties to the Barcelona Convention. This report allowed for important conclusions and highlighted the gaps that need to be overcome for the next assessments.
In this regard, this CORMON meeting is the opportunity to discuss the next steps to fill these gaps towards a successful 2023 Mediterranean Quality Status Report (2023 MED QSR).
For more information about the EcAp implementation in the Mediterranean, please follow this link:
http://www.rac-spa.org/ecap