05/18 Workshop on the national monitoring programme of biodiversity in Algeria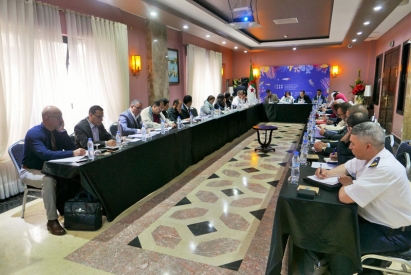 SPA/RAC organized a workshop for the discussion and validation of the national monitoring programme of biodiversity in Algeria, on May 13th2018 in Algier with the collaboration of the Ministry of Environment and Renewable Energy in Algeria
Monitoring and assessment, based on scientific knowledge of the sea and coast, is the indispensable basis for the management of human activities, in view of promoting sustainable use of the natural resources and conserving marine ecosystems.
Since 2008, the Contracting parties to the Barcelona Convention have committed to progressively apply the Ecosystem Approach (Decision IG.17/6) to the management of human activities that may affect the Mediterranean marine and coastal environment, with the goal of effecting real change in the Mediterranean marine and coastal environment and achieving the Good Environmental Status (GES) in the Mediterranean.
Through Decision IG.22/7, the Contracting parties agreed on the Integrated Monitoring and Assessment Programme of the Mediterranean Sea and Coast and Related Assessment Criteria (IMAP) and a specific list of good environmental status common indicators, targets and principles of an integrated Mediterranean Monitoring and Assessment, next to a clear timeline and deliveries for the implementation of this programme.
SPA/RAC is actively contributing to the implementation of the IMAP, particularly its biodiversity and non-indigenous species (NIS) component. The Mediterranean Biodiversity Centre supports the Southern Mediterranean Contracting Parties to develop their national monitoring programmes in line with the IMAP recommendations. Five countries (Libya, Tunisia, Morocco, Egypt and Lebanon) already developed and validated their National IMAP and Algeria has just joined in.
In this regard, SPA/RAC in collaboration with the Ministry of Environment and Renewable Energy in Algeria (MEER) organised a workshop for the discussion and validation of the national monitoring programme of marine biodiversity in Algeria in the framework of the EcAp-MED II project.
The main objectives of this national workshop were to discuss the draft of the monitoring programme and identify and validate lists of habitats and species to be monitored in selected areas (low-pressure area for i.e. Marine Protected Area / Specially Protected Areas of Mediterranean Importance and in a high-pressure area linked to human activities).
The representative of the different institutions and organisations, national experts as well as other stakeholders involved in biodiversity monitoring participating in this meeting reviewed the report on the monitoring programme and agreed on the approach and the future steps to finalize the national IMAP in Algeria. They expressed a great interest in collaborating and joining forces to implement this national monitoring programme.
For more information about the national workshop in Algeria, please follow this link.