05/18: The environmental film celebrated in Tunisia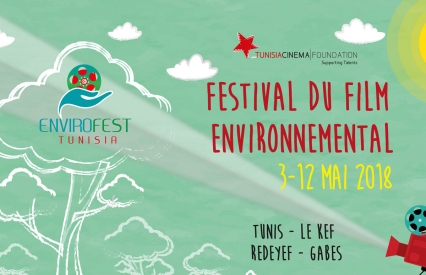 The first environmental film festival in Tunisia "ENVIROFEST TUNISIA" is taking place from 3 to 5 May 2018 in Tunis, May 9 in Kef, May 11 in Redayef and May 12 in Gabes. SPA/RAC is participating in this event.
EnviroFest Tunisia is an annual cultural, educational and film event that provides a platform for understanding and debating environmental issues.
Six long documentaries and two short films will be screened. Some of them will be presented for the first time in Africa in the presence of filmmakers and international scientists. Meetings and debates will follow each screening film session.
SPA/RAC, represented by its director Khalil Attia, will participate in the debate on the documentary film "A Plastic Ocean", scheduled for Saturday, May 5 at 19h in Tunis, at the "Cinéma Africa", with Olivier Pringault, research director, IRD, and Professor Mohamed Salah Romdhane, head of the Ecosystems & Aquatic Resources Research Unit at INAT.
A "village" will be set up on Friday and Saturday at Habib Bourguiba Avenue (Tunis), where civil society organizations and institutions will hold workshops. Everyone is invited to come so as to experience and understand the challenges we are facing and the solutions to safeguard our environment.
A special activity will target the youngest through the section "Les Petits Débrouillards" of the Young Science Association of Tunisia (AJST) which will allow the 4-11-year-old to become aware of the importance of a healthy environment in a playful way.
SPA/RAC will take part in this initiative with the screening of its new animation film on marine biodiversity for children, followed by an exchange and observation of plankton, with the collaboration of the Research Unit Ecosystems & Aquatic Resources of INAT.
In addition, a photographic exhibition "Small islands, pioneers of sustainable development" carried out by the PIM Initiative will be on display at Habib Bourguiba Avenue in Tunis, then May 9 in Kef, May 11 in Redayef and May 12 in Gabes.
For more details on the event, visit the festival website and Facebook page.