04/18: Birds surveillance in Kuriat Islands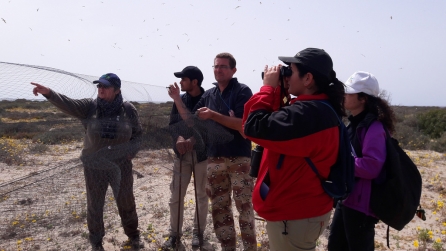 Birds censuring, banding, nests identification were carried out during a field mission organized by SPA/RAC in Kuriat, a future marine protected area in Tunisia
SPA/RAC organized from 13 to 15 April 2018 a field mission dedicated to the census, counting and banding of birds in Kuriat Islands, a future marine and coastal protected area off the coast of Monastir.
This mission was carried out with the participation of the Kuriat Islands Joint Management Unit and the experts Mr Yves Kayser (Tour du Valat), Ms. Claudia AZAFZAF, Mr Hichem AZAFZAF and Mr Sami Rabah (Association Les Amis des Oiseaux).
The observation by binoculars and telescope, the installation of Japanese capture nets, the listening to bird songs allowed the team to identify 44 marine birds and water birds' species, including endangered and threatened species listed in Annex II to the Barcelona Convention SPA/BD Protocol. The mission allowed also to tag several dozens of migratory bird species and to identify hundreds of yellow-legged gull nests.
This activity is part of the implementation of the project " Supporting the management of the marine and coastal protected area of the Kuriat Islands", executed by SPA/RAC in partnership with the Coastal Protection and Management Agency (APAL) and Notre Grand Bleu (NGB) NGO and funded by the MAVA Foundation.
Further field missions will be conducted to initiate and implement a marine and water birds surveillance programme, in accordance with the Integrated Monitoring and Assessment Programme (IMAP) recommendations.
To view more photos of the field mission in Kuriat, please visit the SPA/RAC Flickr page.