04/18: Towards a sustainable management of the northern islets of the Kerkennah Archipelago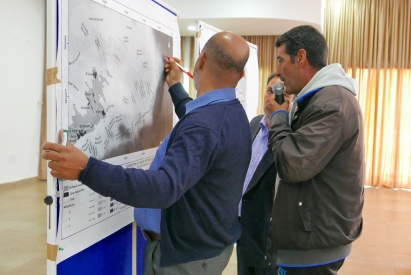 SPA/RAC and APAL organized a workshop on April 19, 2018, closing the first phase for the elaboration of a management plan for the northern islets of Kerkennah in Tunisia.
On Thursday, April 19, 2018, SPA/RAC, APAL and Thetis-Conseil Cabinet presented the results of the diagnostic assessment phase for the elaboration of a management plan for the northern islets of Kerkennah. This document is a synthesis of the available ecological and socio-economic knowledge on Kerkennah. It allowed a mapping of the stakeholders that could be involved in the management of the northern islets of the Archipelago, an area of ​​interest for conservation.
"The marine protected area is not an abjective but rather a tool for conservation and sustainable development," said Atef Limam, SPA/RAC. "This is an area in which there are extraordinary or endangered features that must be preserved for future generations. In which way? By framing the activities that are carried out to make them sustainable and to make the resources available for future generations, "explained Saba Guellouz, APAL.
The event brought together several representatives of the fishing sector including fishermen, the National Institute of Marine Sciences and Technologies (INSTM), the National Heritage Institute (INP), the tourism sector, the national navy, the maritime guard, the Ports and Fishing Facilities Agency (APIP), academics and representatives of civil society (associations and local authorities).
The discussions focused in particular on the zoning plan. Sami Ben Haj and Abdesselam Fezzani from the Thetis-Conseil Cabinet conducted a collective exercise with the participants that let to identify the areas that require special attention for their ecological role (spawning and breeding areas, feeding areas, etc.) or cultural areas (archaeological sites) or socio-economic (fishing areas) and the actions to be taken for their protection.
For Saba Guellouz, "the local populations of Kerkennah know their environment better than anyone, and together we will be able to build a common vision around marine and coastal protected areas".
The next meeting is scheduled on June, in Kerkennah, to present the proposal of management plan, which will serve as reference document for sustainable management of the northern islets.
All the workshop photos are available on SPA/RAC Flickr page.