12/17: Istanbul Environment Friendly City Award: The winner is the city of Izmir!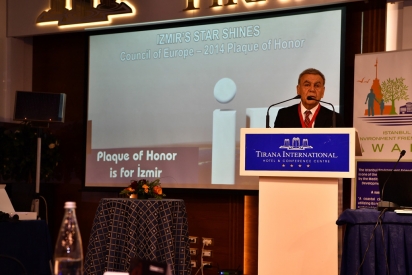 The "Istanbul Environment Friendly City Award" was conferred to Izmir (Turkey) during the high-level session of the COP20 of the Barcelona Convention held in Tirana, Albania, on 17-20 December 2017
During the ministerial session on Tuesday 19 December, Mr Gaetano Leone, Coordinator of the Mediterranean Action Plan, introduced the "Istanbul Environment Friendly City Award" and the procedure followed for the nomination and selection of the winner.
H.E. Ornela Cuci, Deputy Minister of Environment of Albania presented the commemorative plaque to the mayor of Izmir, Mr. Aziz Kocaoglu. The municipality was congratulated on its exemplary implementation of an urban political agenda in the region. The other candidate-cities for the award were also congratulated for the high quality of their applications.
The Istanbul Environment Friendly City Award aims to recognize and reward the efforts of local authorities to improve the environment and the quality of life and promotes sustainable development in Mediterranean coastal towns and cities. It also aims to encourage local authorities to move towards a more environment friendly future and enable them to act as a role-model to inspire other towns and cities. For more information, please visit the Istanbul Award webpage on Plan Bleu website.