07/17: Training session on debris ingestion by marine turtles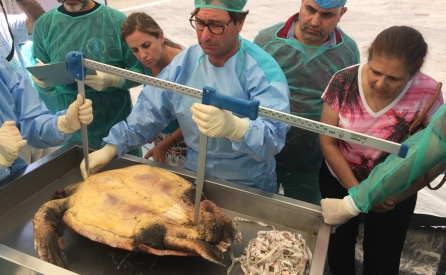 A training on monitoring of debris ingested by marine turtles has been organized by ISPRA in Naples, Italy, on July 6th 2017
Marine litter is any persistent, manufactured or processed solid material, discarded, disposed of or abandoned in the marine and coastal environment. Ingestion of marine litter can have lethal and sublethal effects on wildlife that accidentally ingests it, and marine turtles are particularly susceptible to this threat (Matiddi et al, 2017).
Although, our understanding of this phenomenon in the Mediterranean remains limited. There is a need to better understand the problem and provide the scientific and technical background for a consistent science based prevention, reduction and management measures.
The European Commission drafted the Marine Strategy Framework Directive with the aim to achieve a Good Environmental Status (GES), and the loggerhead turtle (Caretta caretta, Linnaeus 1758) was selected as an indicator species for monitoring the amount and composition of litter ingested by marine animals. An analogous decision has been made under the UNEP/MAP Barcelona Convention for the protection of the Mediterranean Sea, within he Ecosystem Approach Process.
In this context, a training has been organized in Naples, Italy, on 6th of July 2017 by ISPRA, in the framework of the INDICIT Project* and the Marine Litter MED Project**. The aim was to provide national and Mediterranean experts with the practical tools and protocols needed to monitor debris ingestion by marine turtles in the Mediterranean Sea.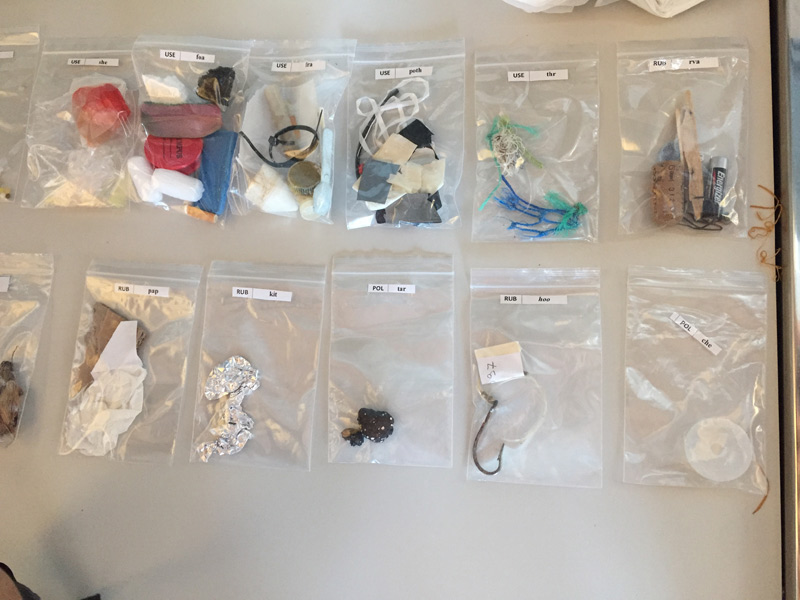 Litter ingested by the marine turtle
*About the INDICIT project
The INDICIT project stands for "Implementation Of The Indicator Of Marine Litter On Sea Turtles And Biota In Regional Sea Conventions And Marine Strategy Framework Directive Areas". It is led by a consortium of researchers from France, Greece, Italy, Portugal, Spain, Tunisia and Turkey, and funded by the European Union. The project focuses on the Descriptor 10 of the Marine Strategy Framework Directive ("Marine Litter"), which aims to maintain or achieve the Good Environmental Status (GES) of the marine environment by 2020 with respect to marine litter. The overarching aim is to develop a set of standardized tools for monitoring the impacts of litter on marine fauna as bio-indicators.
**About the Marine Litter MED Project
With the ultimate objective of achieving the GES of the Mediterranean Sea, the "Marine Litter-MED" project aims to support the Contracting Parties of the Barcelona Convention from Southern Mediterranean/EU Neighborhood to implement the Marine Litter Regional Plan. The project is executed by MedPOL, with the partnership of SPA/RAC and other organisations, and covers the period from 2016 to 2019. It benefits financing from the Mediterranean Trust Fund.

Photos credit : Christos Ioakeimidis