10/16: Planet at the Crossroads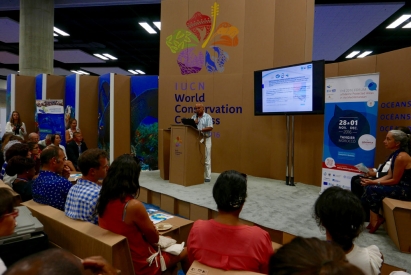 RAC/SPA participated in the World Conservation Congress in September 2016, in Hawaii. We share with you the highlights of this unique experience
The Hawaii Commitments
Over ten thousand leaders from governments, civil societies, indigenous communities, faith and spiritual traditions, the private sector, and academia gathered in Hawaii, from the 1st to the 10th of September, 2016, for the IUCN World Conservation Congress.
The theme of the IUCN Congress this year was Planet at the Crossroads "to reflect the serious choices and actions the world needs to make to reverse environmental declines and secure a healthy, livable planet".
The meeting was an opportunity to explore nature-based solution for conservation, to meet the environmental challenges the world is facing. The result of this reflection was the document "The Hawaii Commitments", that you can read here.
Conserve vital places for life on the ocean
Fourteen new "Hope spots" were announced during the Congress by "Mission Blue". Points are hoping informal recognition of areas or regions "special" in the oceans, identified as such by the global community.
Any person, community or organization may propose a site special to him or her, a site that gives hope, to receive this recognition. The idea is to create a global wave to support ocean conservation that leaders and policy makers could not ignore. For more information about Hope spots, visit the Blue Mission website.
Another major initiative announced during the Congress, is that 11 international organizations for nature conservation will work together to identify, map, monitor and conserve Key Biodiversity Areas (KBA) – places that include vital habitats for threatened species – with more than US$15 million committed over the next five years.
Mediterranean solutions for a changing world
Several communications and events were organized to discuss the Mediterranean initiatives for the conservation of the marine environment. There was notably a debate on the blue economy, during which were presented a major study on the financing needs of Mediterranean MPAs, and the Trust fund for the Mediterranean MPAs. The latter was created to improve the management of marine protected areas.
On September 6, RAC/SPA organized a session dedicated to the Mediterranean, in collaboration with MedPAN and other regional partners. Several initiatives have been discussed with the public: the Joint Cooperation Strategy on spatial protection of marine biodiversity, between ACCOBAMS, FAO / GFCM, UNEP/MAP-RAC/SPA and IUCN-Med, the International Network for Sustainable Islands of the Conservatoire du Littoral and the Arab Network of protected areas of IUCN-ROWA. For more information on the Mediterranean session, see the event page.
Another high point for the Mediterranean community was distinguishing among the 2,000 candidates worldwide of Ahmed Ghedira as " CEPF Hotspot Hero". This recognition is given to those who have made exceptional contributions to the conservation of endangered areas and those rich in biodiversity. Ahmed Ghedira is the president of the Tunisian Association Notre Grand Bleu, with which RAC/SPA has worked extensively for the preservation of Kuriat islands in Tunisia. To learn more about Hotspot Heroes, go to the CEPF website.