09/16: Participation of RAC/SPA in the 41th CIESM Congress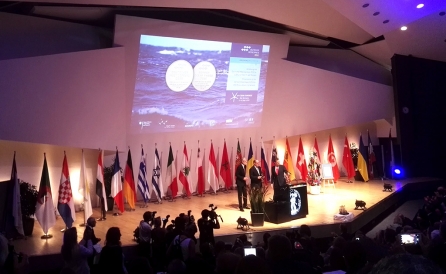 RAC/SPA participated in the 41th congress of the Mediterranean Science Commission (CIESM) from 12 to 16 September 2016 in Kiel, Germany
RAC/SPA participated to the 2016 edition of the Mediterranean Science Commission (CIESM) congress. Held every three years since 1919, this event is one of the most important forum on marine research in the Mediterranean and Black Sea.
Mr. Atef Ouerghi, ecosystems conservation programme officer within RAC/SPA, moderated the session on key coastal habitats. More than 250 participants, students, researchers and PhD students from all countries of the Mediterranean, were present.
All the congresses sessions were related to the following themes: Marine geosciences, physics and climate of the ocean, marine biogeochemistry, marine microbiology and biotechnology, living resources and marine ecosystems, and coastal and marine policies.
For further information on the CIESM Congresses, please click here.