09/16: Upcoming online training on the Ecosystem Approach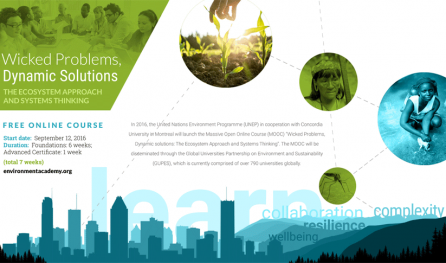 The UN Environment Programme (UNEP), in partnership with Concordia University in Montreal, is offering a MOOC (Massive Open Online Course) entitled "Wicked Problems, Dynamic Solutions: The Ecosystem Approach and Systems Thinking" from 12 September - 28 October 2016.
This MOOC will help gaining:
well-developed knowledge of the basic features of ecosystems from an interdisciplinary perspective;
enhanced knowledge of the inter-relationships between ecosystems, human systems and governance;
opportunities for the wider application of the ecosystem approach and systems thinking in other sectors; and
specific awareness from case studies selected from representative ecosystems and related global issues, demonstrating the benefits and challenges of integrated approaches for ecosystem management and beyond.
The MOOC will be offered in English.
Link to register : http://www.environmentacademy.org/