06/16: General Assembly of the association for the sustainable financing of Mediterranean MPAs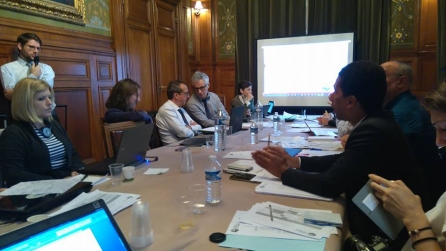 The association adopted its action plan for the next two years. In the pilot phase, funding will be allocated as a priority to countries on the southern shores of the Mediterranean and along the Adriatic coast
The Association for Sustainable Financing of Marine Protected Areas in the Mediterranean held on 16 June 2016, its second General Assembly at the Oceanographic Institute of Paris. Representatives of 5 Mediterranean countries (France, Monaco, Tunisia, Albania, Morocco), RAC/SPA and civil society organizations (MedPAN, WWF Mediterranean, PIM Initiative) took part to the event.
The strategy and action plan for the 2016-2017 period were discussed and adopted during the meeting. During the pilot phase, funding will be allocated to Albania, Morocco and Tunisia, which are the association members countries who detailed their financing needs.
The association had 3 members before the General Assembly (France, Monaco and Tunisia). With the membership of Albania, Morocco, RAC/SPA, MedPAN, WWF Mediterranean and PIM initiative, there are currently 9 members.
The association is open to States and civil society. It aims to set up a trust-fund-type mechanism that should help to sustainably develop and improve the management of Mediterranean MPAs.
The next General Assembly will be held during the Forum of MPAs in the Mediterranean 2016 in Tangier (Morocco) at the end of November.
The strategy paper can be downloaded from the following link.
For more information, please send an email to: contact@m2pa.org
Photo credit: PIM Initiative