12/13: Training session on setup of a rescue center for marine turtles in Tyre Coast Nature Reserve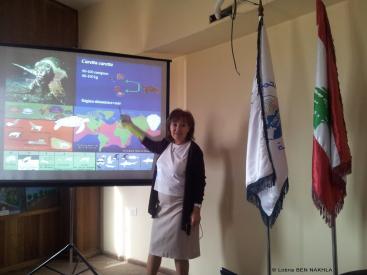 The Tyre Coast Nature Reserve (TCNR), located south of the Tyre town (Lebanon), has been established by the law N 708, on November 12th 1998. The Reserve is characterized by ecosystem's diversity: marine ecosystems and coastal ones can be found.
Indeed, the reserve is an important nesting site for the loggerhead turtle (Caretta caretta) and the green turtle (Chelonia mydas), and it is worth noting that the future of these species in Mediterranean Sea depends mainly on the protection of their nesting sites and in particular in the eastern part, as in the Tyre Reserve.
Within the implementation of the Action Plan for the conservation of Mediterranean marine turtles, and in order to define the migratory routes of marine turtles, an experience of satellite tracking of marine turtles has been carried out on July 2012 in the reserve thanks to the collaboration between the Regional Activity Centre for Specially Protected Areas (RAC/SPA), the Stazione Zoologica «Anton Dohrn» Naple (Italy), the Lebanese Ministry of Environment and the Municipality of Tyre.
In framework of strengthening the monitoring and the study efforts of marine turtles in the nature reserve, training on the setting up of a rescue center has been organized from 2 to 5 December 2013 at the reserve premises.
The training was provided by Mrs. Flegra BENTIVEGNA, a marine turtles expert.
Where present to this trainig the reserve's staff, Civil Protection, National Guards and other volunteers from the Red Cross. These last persons are now empowered to intervene with marine turtles.
Some PhD searchers of the National Council for Scientific Research (CNRS) and its director took part at this training.
The rescue center will host marine turtles that require care and release them back to the natural environment when they become enough healthy.
Necessary equipment for the implementation of the rescue centre in the reserve is currently being acquired.