The MAP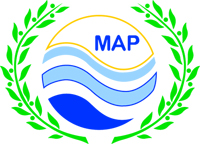 The Mediterranean Action Plan (UNEP/MAP or MAP) brings together the states bordering on this Sea in a mutual desire to cooperate and act. Their aim is to create a healthier environment in the whole of the region, by acting on the precautionary principle and that of sustainable development.
The MAP, the first programme devoted to a regional sea by the UNEP, was revised after the conclusions of the third Earth Summit in Rio de Janeiro (Brazil) in 1992. It started on a new phase, 'MAP Phase II', and was renamed the « Action Plan for the Protection of the Marine Environment and Sustainable Development of the Mediterranean Coastal Areas ».

The MAP has 22 Contracting Parties: Albania, Algeria, Bosnia-Herzegovina, Croatia, Cyprus, Egypt, the European Community, France, Greece, Israel, Italy, Lebanon, Libya, Malta, Monaco, Morocco, Montenegro, Slovenia, Spain, Syria, Tunisia and Turkey.