11/14: 2nd announcement of the Second Symposium on the conservation of marine and coastal birds in the Mediterranean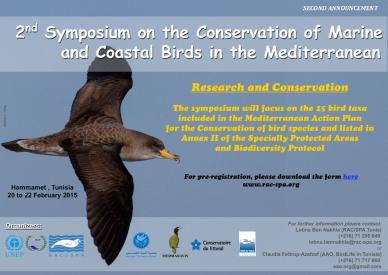 The first Symposium on the Conservation of coastal and marine bird species of Annex II of the Protocol Concerning Specially Protected Areas and Biological Diversity in the Mediterranean (SPA/BD Protocol), under the Mediterranean Action Plan and the Barcelona Convention, took place in Vilanova I la Geltru (Spain) in November 2005 and was co-organized by Medmaravis (Proceedings of the 1st symposium are downloadable here). One of the main recommendations arisen, regarded the inclusion of 10 new bird species to the list of endangered and threatened species in the annex II of the SPA/BD Protocol, then adopted by the 16th Ordinary Meeting of the Contracting Parties to the Convention in November 2009 in Marrakech (Morocco).
Ten years after the Vilanova event, it's time have a closer look on status of marine and coastal birds . In particular, it's time to define again the knowledge gaps of the populations, to assess the effect of new regulations, conventions and research tools, and call to new cooperation efforts among all the countries adopted the 25 bird species of the Annex II.
SUBJECTS AND TARGETS:
The Regional Activity Centre for Specially Protected Areas (RAC/SPA) is organizing the 2nd Symposium on the Conservation of Marine and Coastal Birds in the Mediterranean that will be held in Hammamet (Tunisia) on 20-22nd February 2015, in partnership with "Les Amis des Oiseaux" (AAO, BirdLife Partner in Tunisia), MEDMARAVIS and two French organizations: the Tour du Valat Biological Station and Conservatoire du Littoral.
The main objective of the second Symposium is to review the current knowledge of the 25 bird taxa included in the SPA/BD Protocol and to discuss the most recent results of research and conservation work on these species. Particular interest will be paid at conservation issues, the current project implemented in the Mediterranean, and innovative proposition to limit the threats impacting these populations. This symposium is also intended to provide an opportunity for Mediterranean ornithologists to exchange information and experience and to provide MEDMARVIS members the first meeting opportunity since Alghero, 2010.
Therefore, this meeting will be the opportunity to discuss about the future of MEDMARAVIS, how this organization could be the network facilitator of Mediterranean ornithologists.
SCIENTIFIC COMMITTEE:
| | |
| --- | --- |
| Hichem AZAFZAF (AAO, Tunisia) | Danae PORTOLOU (BirdLife, Greece) |
| Nicola BACCETTI (ISPRA, Italy) | Joe SULTANA (BirdLife, Malta) |
| Abdulmaula HAMZA (UMT, Malaysia) | Mathieu THEVENET (Conservatoire du Littoral, France) |
| Xaver MONBAILLIU (MEDMARAVIS, France) | Sophie VERAN (Tour du Valat, France) |
ORGANISING AND PROGRAMME COMMITTEE:
Souad BEN AOUICHA (RAC/SPA,Tunisia)
Sami BEN HAJ (Consultant/ Conservatoire du littoral)
Lobna BEN NAKHLA (RAC/SPA, Tunisia)
Fabrizio BORGHESI (Medmaravis, Italy)
Claudia FELTRUP-AZAFZAF (AAO, Tunisia)
CONTACT PERSON(S):
Full 2nd announcement, programme and accomodation details in pdf format here.
The Registration form for this symposium is available for download at this link (Microsoft Word document).